Unit 1 - Introductions

In this unit you will be introduced to the Bininj people and the Bininj Kunwok languages

Unit 2 - Family matters ...

Unit 3 - Coming and going
Njalenjale
Here is some additional information about kinship that may be useful.
There are two excellent online resources that explain and explore Aboriginal kinship systems in general and with examples from different groups.
The following chart (taken from the Bininj Kunwok website) shows a complete family tree for 7 generations, from a male perspective.  (If you're not used to reading kinship charts, a circle is female and a triangle is male, M = mother,  F = father, Z = sister, B = brother, ™D = daughter, S = son, and these can be combined so MBS = mother's brother's son). There are other useful resources on that page about skin terms in neighbouring communities.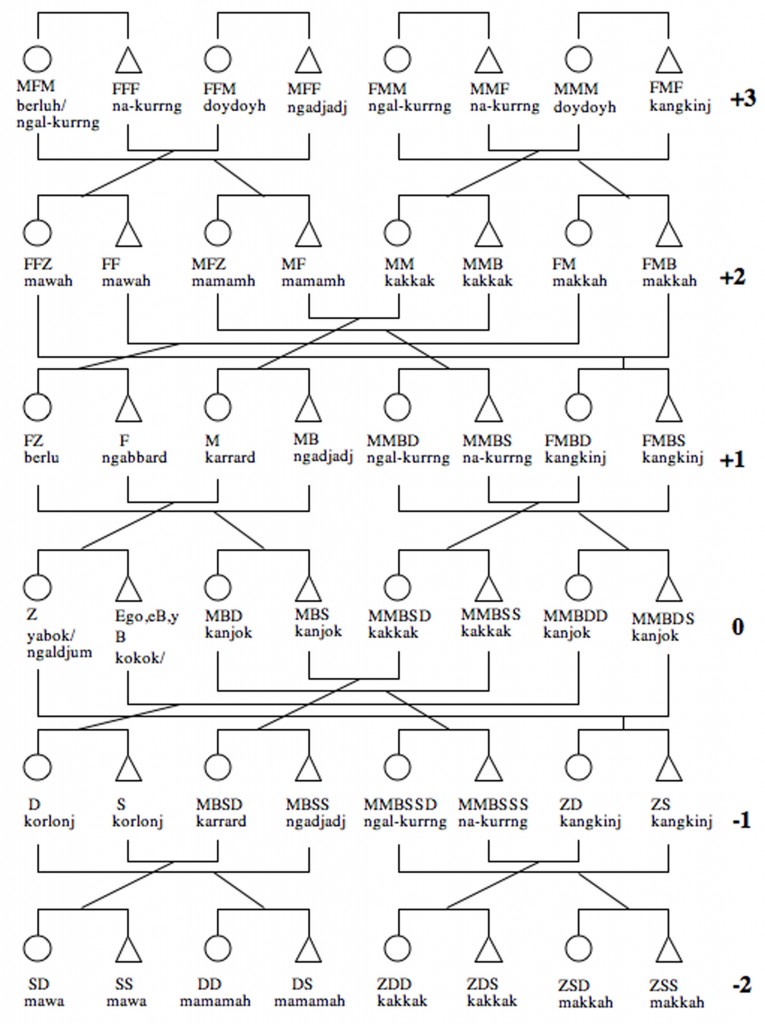 If you'd like to read more this, Murray Garde has written a whole book describing how Bininj Kunwok speakers refer to other people in conversation.
Garde, M 2013, Culture, Interaction and Person Reference in an Australian Language, John Benjamins Publishing Company, Amsterdam/Philadelphia.
There's also an interesting article by Mark Harvey about kinship and marriage:
Harvey, M. (2001), Oenpelli Kunwinjku Kinship Terminologies and Marriage Practices. Oceania, 72: 117–142. doi:10.1002/j.1834-4461.2001.tb02776.x